148623992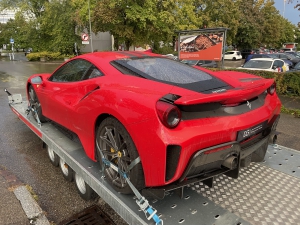 Vehicle category
Vehicle transporter
Vehicle type
Day Registration
Loading capacity

2.514 kg
Outside dimensions (L/B/H in mm)
7890/ 2130/ 0
Note
Dreiachsiger Plattformanhänger TEMARED CARKEEPER 3500kg
KIPPBAR mit Alu-Blech in der Mitte.
niedrigeren Auffahrwinkel (ca. 11 Grad)
Innenmaße (cm): 580 x 207
Nutzlast: 2514 kg
Maximales Gesamtgewicht: 3500 kg
Leergewicht 986 KG
100km/H Zulassung
Gesamtlänge 7890 cm
Gesamtbreite 2130 cm
---
AL-Ko Anti-Schlingerkupplung 3, 5t
Alu-Blech in der Mitte
6 Stoßdämpfer
Ersatzrad mit Halter
3 gebremste Achsen ( AL-KO)
AL-KO Rahmen
Reifen 195/55 R10C
Einzelradaufhängung auf dem Drehstabfeder
Robustes und voll verzinktes Fahrgestell mit V-Deichsel
Auflaufeinrichtung und Feststellbremse
Seilwinde
Stahlrahmen und Standschienen aus Lochblech im Ganzen geschweißt, komplett
Tauchbad feuerverzinkt
Transportfläche: perforierte und feuerverzinkte Stahlblech mit erhöhter Festigkeit,
rutschfest, mit ovalen LOHR-System-Löchern
Korrosionsschutz: feuerverzinkte Konstruktion
Hydraulische Handpumpkippvorrichtung
Einseitiger Hydraulikzylinder für Heben und Senken
Lochprägung in Standschienen für die Ladungssicherung
Seitlich ausklappbare Rücklichter für einfaches Beladen des Anhängers
Starkes Stützrad
Zuverlässige Anhänger für den gefahrlosen Transport von Fahrzeugen.
Der CARKEEPER, die sich durch den niedrigeren Auffahrwinkel (ca. 11 Grad)
sowie niedrigen Schwerpunkt auszeichnet, ist die beste Wahl zum befahren
mit Fahrzeugen mit geringerBodenfreiheit.
Bewährte Konstruktionen und verstärkte Profile ermöglichen eine langjährige Nutzung von
diesem Anhänger.
Owner (name, last name)
Daniel Godefroid
Inhaber
06563/963839

* More information about the official fuel consumption and official specific CO2 emissions of new cars can be found in the guide on fuel consumption and CO2 emissions of new cars", which is available free of charge at all sales outlets and at the "Deutsche Automobil Treuhand GmbH" at www.dat.de
Data protection notice
To process your request through webmobil24.com and service providers commissioned by webmobil24.com, your above-mentioned personal data is collected processed, transmitted or used, and - if required for executing or processing the inquiry - transmitted to companies associated with webmobil24.com, to service providers or a partner of webmobil24.com to be processed or used. If data is transferred to countries outside the EEA to the above-mentioned parties and processed there (e.g. for technical storage and processing by the authorised data processing service provider in the US), this is of course done in full compliance with applicable regulations for the protection of personal data. By submitting this form you agree that you may be contacted by e-mail for the above-mentioned purposes. If you do not want your data to be used for the above-mentioned purposes, please contact the above-mentioned supplier.
Sell ââgood pictures vehicles: 36 XXL photos, + slideshow and video on every vehicle possible.

The most important vehicle information at a glance.

Contact person can be used individually or generated from the data of the e-mail response system.

Quality management - Envkv or quality seal are uploaded automatically

Contact person can be used individually or generated from the data of the e-mail response system.

For lovers of detail: adjustment of all features possible.

The way to your dealership: That's how the customer always finds you!